G-20's issue and G-20 consensus, can it be implemented?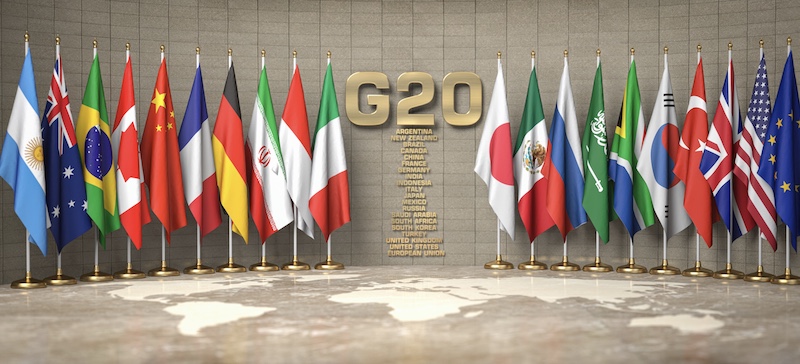 STRATEGIC ASSESSMENT. Jokowi said he would voice the interests of developing countries in a meeting of countries with big economies. Jokowi said he would bring a message of peace and emphasize the importance of collaboration in creating stability in the region.
U.S. Vice President Kamala Harris, Chinese Premier Li Qiang, and Russian Foreign Minister Sergei Lavrov attended an East Asia Summit (EAS) in Jakarta offering an opportunity for direct, high-level diplomacy between the rivals.
While the gathering can bring major players together, its ability to help resolve a range of regional and global disputes is limited, experts say. "It's a sign of the ASEAN convening power but lately we can say that the East Asia summit is broken. It has been turned into a forum for talking points," said Aaron Connelly, senior fellow at Singapore-based think tank the International Institute for Strategic Studies (IISS).
Indonesia warned leaders including U.S. Vice President Kamala Harris, Chinese Premier Li Qiang, and Russian Foreign Affairs Minister Sergei Lavrov against sharpening rivalries as they wrapped up an East Asia summit in Jakarta. "Every leader has an equal responsibility to not create new conflicts, to not create new tensions, and at the same time we also have a responsibility to lower heated tensions," Indonesian President Jokowi, chair of ASEAN, said in closing remarks.
Harris spoke about "Russia's illegal invasion of Ukraine," maritime challenges in the South and East China Seas and the growing threat of North Korean missile programs, Daniel Kritenbrink, U.S. Assistant Secretary for East Asia and Pacific affairs, told a briefing.
Defense Minister Prabowo Subianto was emphasized that Indonesia will not take sides with any party amid geopolitical tensions in the Indo-Pacific between the United States and China. He said Indonesia would continue to adhere to a free and active foreign policy.
Furthermore, Prabowo said that U.S. President Joe Biden and Chinese President Xi Jinping must have had their own reasons for not attending the 43rd ASEAN Summit in Jakarta. He also claimed that Southeast Asia is the world's safest region.
U.S. President Joe Biden will meet with Indonesian President Jokowi in Washington in November as well as Jokowi's presence in San Francisco for APEC Economic Leaders Week, the White House said. Biden and Jokowi met on the sidelines of the G20 summit in New Delhi, the White House said. According to a White House statement issued on Sunday, Biden congratulated Jokowi on his exceptional leadership in ASEAN as chairman in 2023, as well as the G20 during Indonesia's presidency in 2022.
The G20 adopted a consensus declaration at a summit that avoided condemning Russia for the war in Ukraine but called on all states not to use force to grab territory. Indian Prime Minister Narendra Modi announced that the Leaders' Declaration had been adopted on the first day of the weekend G20 summit in New Delhi.
The consensus came as a surprise as G20 is deeply divided over the war in Ukraine, with Western nations earlier pushing for strong condemnation of Russia in the Leaders' Declaration, while others demanded a focus on broader economic issues.
G20 leaders had agreed to pursue tripling renewable energy capacity globally by 2030 and accepted the need to phase-down unabated coal power but stopped short of setting major climate goals. The declaration adopted by G20 leaders on the first day of the two-day summit in New Delhi did not mention cutting greenhouse emissions. It said member nations "will pursue and encourage efforts to triple renewable energy capacity globally …in line with national circumstances by 2030."
The G20 has agreed that "national circumstances" will be factored into the phasing down of "unabated coal power" but did not mention reduction in usage of crude oil, suggesting that countries like oil-rich Saudi Arabia prevailed during the negotiations.
President Jokowi during the G20 Summit in New Delhi, India said that climate finance commitments from developed countries to accelerate the transition to a low-carbon economy have remained rhetoric, referring to climate funding commitments of $100 billion per year as well as the loss and damage finance facility.
In front of G20 leaders, Jokowi emphasized that accelerating the low-carbon economic transition is one of the pivotal efforts to control global temperatures, which are predicted to continue to soar in the next five years.
So far, the implementation of emissions reduction has remained highly insufficient, he added.
Developing countries need technological support and green investment to help accelerate global emissions reduction, Jokowi said.
While remaining in the shadow of the world's major powers' rivalries, the leaders of the G20 member countries finally reached an agreement on Sunday. They agreed on the New Delhi Declaration, which stated that countries should "refrain from threats or use of force to seek territorial acquisition" and that "the use or threat of use of nuclear weapons is unacceptable."
According to Amitabh Kant, India's G20 representative, reaching the consensus, which consisted of 83 paragraphs, required a very difficult negotiation process, according to The Guardian on Saturday. Kant said that the next two G20 presidents, Brazil, and South Africa, were instrumental in convincing Russia to agree to the language used in the declaration. Similarly, the roles of Indonesia, Turkey, and Mexico are critical.
When contacted separately, Indonesian Foreign Affairs Minister Retno Marsudi said that Indonesia played an important role in the agreement's drafting. Indonesia has consistently contributed to being part of the solution, bridging all differences, and continuing to advocate for developing countries' interests, including the right to development.