The current rivalry between US vs China
STRATEGIC ASSESSMENT. The Biden administration is pressing its case for a new approach to global trade, arguing that America's traditional reliance on promoting free trade pacts failed to anticipate China's brass-knuckled brand of capitalism and the possibility a major power like Russia would go to war against one of its trading partners.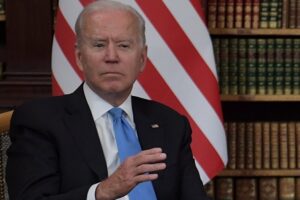 In a speech at American University, U.S. Trade Representative Katherine Tai called for a strategy of what's known as "friend-shoring" — building up supply chains among allied countries and reducing dependence on geopolitical rivals such as China. Rising tension with Beijing and supply-chain bottlenecks arising from the COVID-19 pandemic have highlighted the risks of relying too heavily on Chinese suppliers.
The International Monetary Fund said in report that global tensions could disrupt overseas investment and eventually lead to a long-term loss of 2% of the world's gross domestic product.
Companies and policymakers across the globe are exploring ways to make their supply chains more resilient by "moving production home or to trusted countries," the IMF warned in its report, adding that this will lead to fragmenting foreign direct investment.
The IMF pointed to recent bills adopted against the backdrop of rising tensions between the U.S. and China, such as Washington's Chips and Science Act. Japan recently imposed its own restrictions on 23 types of semiconductor manufacturing equipment, joining U.S. efforts to curb China's ability to make advanced chips.
According to Resty Woro Yuniar, Jakarta-based reporter who covers Indonesian current affairs and Southeast Asia's tech scene. She was previously Indonesia correspondent at the BBC and tech reporter with The Wall Street Journal, a landmark U.S. climate bill risks pushing Indonesia closer to China unless electric-vehicle batteries made in Southeast Asia's largest economy are covered by tax breaks under the legislation, analysts say. To be eligible for a US$7,500 tax credit under U.S. President Joe Biden's Inflation Reduction Act (IRA), which includes a US$369 billion clean energy package, manufacturers must fulfil two criteria.
First, 40 per cent of critical battery minerals must be extracted or processed in the United States or one of its-free trade agreement (FTA) partners. Second, half of the battery components must be manufactured or assembled in North America. Thus, EV batteries containing Indonesia-sourced components will be ineligible because it is not an FTA partner, and the country's nickel sector is heavily dominated by Chinese companies.
Eventually, Jakarta may be forced to review China's wide-reaching investments if it wants a slice of America's giant EV market, analysts say. Jakarta has discussed the issue with Washington, according to Luhut Pandjaitan, coordinating minister of maritime and investments affairs, who is also President Joko Widodo's right hand man in persuading Chinese firms to invest in Indonesia.
Luhut said that he also had discussions with the US Secretary of the Treasury Janet Yellen and American carmakers Ford and Tesla to see if Indonesia-originated nickel could still be accepted under the tax scheme. While it may take a long time to materialize, Indonesia can start to seek preferential trade agreements with Washington now in lieu of a full-fledged FTA, said Bhima Yudhistira, executive director at the Jakarta-based think tank Centre for Economic and Law Studies.
Most U.S. adults in a survey say they have little confidence that Chinese President Xi Jinping will "do the right thing regarding world affairs," according to the poll by the Pew Research Center released. Despite that pessimism, more than half of people in the U.S. said the two countries can work together on trade and economic policy, the survey found.
The Biden administration is looking at expanding how it monitors social media sites and chatrooms after U.S. intelligence agencies failed to spot classified Pentagon documents circulating online for weeks, according to a senior administration official and a congressional official briefed on the matter.
President Joe Biden and Defense Secretary Lloyd Austin were briefed about the disclosure last week, administration officials say, but the secret documents appeared online in early March on the Discord social media app, according to Bellingcat, the open-source investigative group. Some documents may have appeared as early as January, the group said.
The fallout from the recent banking crisis is likely to push the US economy into a mild recession later this year, according to notes from the Federal Reserve's March policy meeting, released.
Since November 2022, staff economists at the Federal Reserve have predicted subdued growth and a weakening economy during policy decision meetings. in March, they said the banking crisis heightened that forecast to a recession.
China was banning US House Foreign Affairs Committee Chairman Michael McCaul from entering the country, along with other countermeasures after the politician's recent visit to Taiwan.
The government is freezing any property or other assets McCaul, a Texas Republican Representative, may have in China and banning Chinese nationals and organizations from transacting with him, according to a statement from its foreign ministry Thursday. His visit to Taiwan earlier this month and previous comments and actions interfere with Chinese internal affairs, the ministry said.