'Accountability and justice': Gathering digital evidence of war crimes in Ukraine
STRATEGIC ASSESSMENT-Geneva. At the opening of a UN Human Rights Council meeting in Geneva on Monday, UN Secretary-General Antonio Guterres said the Russian invasion of Ukraine had led to "most massive violations of human rights" in the world today, including cases of sexual violence, forced disappearances, arbitrary detentions and violations of the rights of prisoners of war documented by the UN human rights office.
Ukraine itself estimates that more than 70,000 war crimes have been committed on its soil since the February 2022 invasion.
At the same time, there are almost unprecedented efforts being made to record and investigate evidence of such crimes – including in digital form.
Mnemonic, an NGO based in Berlin, has collected more than 3 million records of potential human rights violations and alleged war crimes in Ukraine since the Russian invasion.
"Predominantly it's user-generated content from Telegram, YouTube, Twitter and Facebook posts," says Roksolana Burianenko, project manager for the organisation's Ukrainian Archive. Records include TikTok posts, satellite imagery and news articles, all of which build a digital picture of events on the ground in real time – and potential proof for future judicial proceedings.
Gathering evidence
Offences defined as war crimes range from concrete actions such as killing, torture or destruction of property to more nebulous acts such as "intentionally damaging cultural property", in which case "intent" and "cultural worth" must be measured.
Deciding what kind of digital record could serve as potential evidence depends on the nature of the incident. If looking for evidence of a filtration camp used to process Ukrainian citizens before their transfer to Russia, the group would seek out records such as satellite imagery and individual testimonies.
An attack on civilian infrastructure, such as a hospital, means collecting minute-by-minute details: photos, videos, local media coverage and information shared by local authorities (such as first-response social media posts from police) can all help piece together a narrative.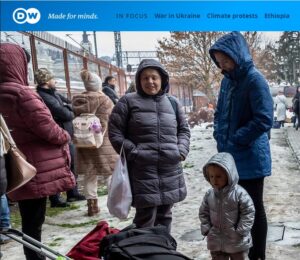 Mnemonic, which has a team of fewer than 50 people, uses a combination of manual and automated collection methods to sort through billions of potential records online. Typically, the process starts with an open-source search through information freely available on social media and other publicly accessible sites "focused on that specific area, that specific incident on that specific day", Burianenko says.
As the search deepens, the team uses other technologies including satellite imagery; data analysis and verification methods, including identifying the original source of information; geo- and chrono-location; and analysing metadata to assess each record's credibility.
Typically, gathering evidence of war crimes in person is a long and difficult process. Locations where atrocities have been committed can be difficult to access and unsafe for teams of investigators long after crimes have taken place. In-person evidence often relies on witness testimony of traumatic events, which can be conflicting and incomplete.
By contrast, digital records seem to shine a bright light on investigations. They offer "key information regarding wrongdoing, even in real time, that would otherwise remain hidden from public view", says the UN's Berkely Protocol, a set of guidelines on how to conduct open-source investigations published in 2022.
'Billions of images and videos'
But they are no magic bullet. One of the biggest challenges lies in preserving archived digital records for the long term, as this involves trying to predict technological advances that could affect accessing the records in the future.
For instance, if a platform decides to change its URL structure for webpages – as Facebook did in 2022 – millions of reference links to digital records on the platform can become unusable. "Then the tech team has to go back and redevelop according to the new changes," says Brian Perlman, an open-source investigator at Mnemonic. "The technical challenges are huge, and we're still coping with that."
Platforms also have total authority over deleting or hiding content, and much potential evidence of war crimes falls foul of moderation guidelines that ban graphic imagery. Meta apologised in May 2022 after the Facebook algorithm briefly blocked hashtags related to the Bucha massacre in Ukraine, temporarily shutting down information about the incident.
Despite organisations such as Amnesty International criticising social media platforms for failing to preserve content for use in war crime investigations, none have official policies for preserving relevant digital records of war crimes or sharing them with investigators.
On TikTok, Twitter, Facebook and YouTube, "I can only speculate… that little of this war will be accessible 20 years from now," says Andrew Hoskins, professor of global security at the University of Glasgow, founder of the online Journal of Digital War, and co-author of "Radical War: Data, Attention & Control in the 21st Century".
"The most documented war in history could easily become the most forgotten."
The amount of potential digital evidence available also presents a mammoth challenge for investigators.
Through 11 years of conflict in Syria – during which the use of mobile phones and mobile video in conflict zones were a new phenomenon – the NGO collected around 5 million digital records in total. In the first year since the Russian invasion of Ukraine it has already collected more than 3 million.
"And this is only a fraction of content that is actually in existence relating to recording of this war," Hoskins says.
Currently, Mnemonic is one of several organisations working through vast troves of potential evidence online. More support is vital, Hoskins says. "There is the need for the international political will and financial resources to prosecute war crimes at scale. Who has the vast resources and political will to ultimately gather, mine and process billions of images and videos?"
"The apparent transparency of this war does not mean the pursuit of justice and accountability is somehow easier than wars from which we do not have a record of billions of images and videos."
Accountability and justice
The team at Mnemonic are more optimistic. They believe that AI advances, in particular, will make their archive a real resource for judicial action. "We have a data set that can potentially be used in the future by machine learning algorithms that can comb through this massive archive and look for specific pieces of content. We're not there yet, but the technology is rapidly developing," says Perlman.
Their work is also part of what Human Rights Watch has described as an "unprecedented" international effort to investigate potential war crimes in Ukraine and implement accountability mechanisms.
Investigations are ongoing at the UN, the International Criminal Court, the EU Agency for Criminal Justice Cooperation, and the Organization for Security and Cooperation in Europe.
In meetings this month, member states of the UN Human Rights Council are expected to push for an extension of the investigation that found in September 2022 that war crimes had been committed in Ukraine.
Individual European countries have launched their own investigations and in January the US implemented the Justice for Victims of War Crimes Act giving the Department of Justice the right to prosecute people present in the US for war crimes committed anywhere, regardless of the nationalities of alleged perpetrators or victims.
In Ukraine, especially, there is momentum to keep pushing for accountability and to keep on recording and sharing evidence online. "There is such a significant collective effort among Ukrainians to document possible war crimes, human rights violations and damage of civilian property as much as possible," says Burianenko. "People are looking for accountability and justice." (www.france24.com)