G20 – Impact of Geopolitical Conflict on Economic Agenda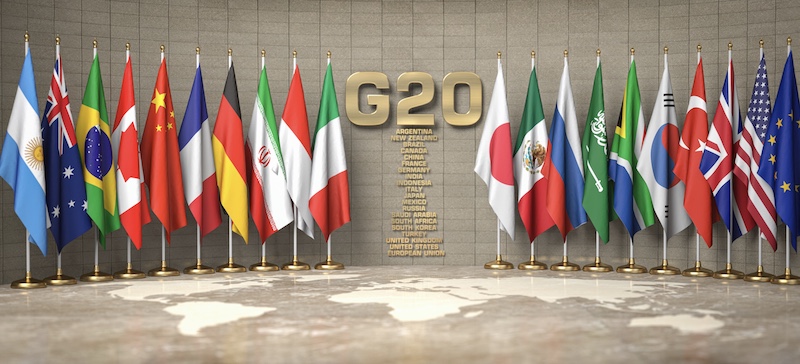 STRATEGIC ASSESSMENT. Finance Minister Sri Mulyani Indrawati on Thursday cited geopolitical condition as one of the challenges facing Indonesia's G20 presidency, adding that it has shifted attention from pandemic threats, which determined the "Recover Together, Recover Stronger" theme.
She said the ongoing conflict and other geopolitical challenges threaten the values of the G20. She said conflicts will not only cause complications in terms of cooperation and coordination but will also create spillovers that will greatly affect and challenge economic recovery.
"Rising food and energy prices have pushed inflation to its highest level in 40 years in developed countries," the minister said. She said geopolitical conflicts also overshadowed the G20 meeting in February.
Managing meetings during a conflict, she said, is a challenge because as the G20 president, Indonesia wants to continue to discuss very strategic agenda, not only for the benefit of Indonesia, but also the world.
Finance Minister Sri Mulyani Indrawati on Thursday predicted that the economies of the United States and China would contract to the brink of recession. She predicted the effects of the two major countries' economic slowdowns would be felt gradually by Indonesia.
The economic slowdowns would be notably felt in the export component, as these two countries are Indonesia's largest trading partners. She asked that local governments be prepared to prevent the risk from spreading swiftly.
Military and defense observer Connie Rahakundini Bakrie, in a webinar on Wednesday, said it was difficult to predict when the Russia-Ukraine war would end, citing the defense strategy of Russia, which has a history of invading other countries.
She also said the war would shift the global geopolitical system and disrupt international trade. Meanwhile, Institute for Development of Economics and Finance (Indef) senior economist Fadhil Hasan.
He said that the conflict would increase world crude oil prices, sunflower oil, and vegetable oil/CPO, Indonesia could seize it as an opportunity to increase income and meet domestic market needs.
President Jokowi on Friday said the war in Ukraine must end as it's driving up food and energy prices and putting developing nations like Indonesia at risk. Jokowi said the war should be resolved through negotiation and dialogue.
"After G7, I will visit several countries that are related [to the] food issue," he told CNBC. Jokowi declined to confirm if he was visiting Russia or Ukraine, which are among the world's largest producers and exporters of food grain.
Despite calls to remove Russia from the G20, Indonesia has invited Putin to the leaders' summit. He has also invited Ukrainian President Volodymyr Zelenskyy.
Jokowi underlined the reasoning behind his decision to invite Zelenskyy to Bali. "There's a problem here and the problem is war. In G20, we also need to invite Ukraine so that we can resolve the problem," he said.
Asked about whether Indonesia was caught in the geopolitical tussle between the United States and China, Jokowi insisted his country was "close friends" with both.
The Indonesian president went on to say that Indonesia's trading relations with both countries remained strong, and that the United States and China are both strategic partners to Southeast Asia's largest economy.
On whether the Quad strategic alliance or the AUKUS nuclear and security deal that Australia signed with the United Kingdom and the United States last year risks angering China.
Jokowi said, "We don't want our region to become the platform for rivalry [between] big countries. We want this region to be peaceful so that we can build our country and have better economic growth."
Russia on Monday accused some members of the G20 major economies of politicizing a meeting on global health, as it faced criticism over how its invasion of Ukraine in February had plunged its healthcare system into chaos.
The war in Ukraine has overshadowed G20 meetings this year, with current chair Indonesia struggling to keep the group united and resisting pressure from Western members to exclude Russia.
"We are asking our colleagues not to politicize G20 health platform and stay within our mandate and discuss healthcare," Russian Health Ministry official Oleg Salagay told a G20 health ministers' meeting in Yogyakarta.
Representatives of the United States, Britain, Australia, and Canada urged Russia to ends its aggression. Andrea Palm, deputy secretary of the U.S. Department of Health and Human Services, said Russia's war was "directly at odds with the goals of G20 healthcare and our goal of promoting global health."
The Indonesian Health Ministry officially held the first G20 Health Ministers' Meeting in Yogyakarta on Monday, with a number of discussions on building a global health system, raising funds through the Financial Intermediary Fund, and harmonizing verification of COVID-19 digital vaccine certificates internationally.
A G20 fund to better prepare for future pandemics may be operational at the end of June, if an approval is given by the board of the World Bank, which houses it, the finance minister of current G20 president Indonesia said late on Tuesday.
G20 countries have provisionally agreed to set up the multi-billion dollar fund, which health officials have said will finance efforts like surveillance, research, and better access to vaccinations for lower-to-middle income countries, among others.
Over $1.1 billion has been pledged to the fund by the United States, the European Union, Germany and Singapore, among others, Health Minister Budi Gunadi Sadikin said to a news conference (Red/many sources).