Chinese's strategic problems and current issue
STRATEGIC ASSESSMENT. Taipei. The war between Beijing and Washington continued even after Russia's invasion of Ukraine. If China decides to invade Taipei, Taiwan would likely end up like Ukraine: The United States will step up and help Taiwan, and a big war might break. The United States has predicted this, but China has always calculated their moves with precision and meticulously.
Some analysts agree that the United States and its allies cannot do much, while China has more troops, missiles, and planes compared to Taiwan. They say China's invasion of Taiwan could be more dangerous and complex than the Allied D-Day landings in France during World War II.
Chinese defence minister, Wei said China would not hesitate to launch a war if Taiwan declared independence. He further emphasized that Taiwan is "China's Taiwan," and hence utilizing Taiwan to restrict China will never work.
The top Chinese and U.S. security advisers have held lengthy talks, with both sides describing them as "candid" following days of acrimonious exchanges over Taiwan and other flashpoint issues.
Readouts of the meeting in Luxembourg on Monday were toned down compared with last week, when China's defense minister warned his country would not "hesitate to start a war" over Taiwan, while the U.S. defense secretary blasted Beijing's "provocative, destabilizing" military activity.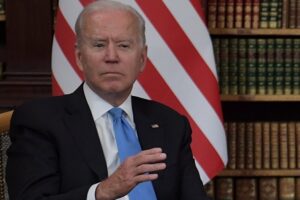 But U.S. Security Advisor Jake Sullivan and top diplomat Yang Jiechi did not indicate any compromise on their core points of disagreement, especially Taiwan. China considers the self-ruled island a part of its territory, to be seized by force one day if necessary.
U.S. Secretary of State Antony Blinken warned Beijing to take into account the "response" given by the international community to the "Russian aggression of Ukraine" in the face of threats about possible aggression by Beijing against Taiwan. He claimed that China is becoming more aggressive toward Taipei. "Unfortunately, what we have seen over the last ten years is that China acts increasingly repressive, both at home and abroad and the actions it takes with respect to Taiwan are dangerous and destabilizing," he said.
On the sidelines of a World Trade Organization (WTO) ministerial meeting in Geneva, Taipei's top trade negotiator John Deng said any Chinese military attack on Taiwan would have a greater impact on global trade flows than the Ukraine war. If China attacks Taiwan, he said the potential for disruption could be even worse because the world relies on Taiwan for chips used in electric vehicles and cell phones.
Wei said bilateral relations between China and the United States were at a critical juncture, with China desiring only peace and stability and asking the United States to increase solidarity. He also warned that the U.S.' Indo-Pacific cooperation plan would increase confrontation by forming exclusive little groupings in the name of freedom and an open Indo-Pacific.
The General SVR's Telegram account, quoted by Australian media News.au on Saturday, reported that relations between Russia and China were heating up, following Russian President Vladimir Putin hurling insults at Chinese President Xi Jinping. Putin said harsh words because he felt that Beijing had not been maximal in helping Russia when it was hit by economic sanctions from the West.
Putin also reportedly threw harsh words directly at Foreign Minister Sergei Lavrov for failing to get solid support from China. Someone in Beijing who knew about it immediately started a discussion and said China was having a hard time understanding Russia's "difficulties."
Chinese Foreign Ministry Spokesperson Wang Wenbin requested the United States to back up its remarks. He also requested that the United States refrain from dividing NATO countries in Asia into antagonistic blocs. He said the most serious threat to Taiwan Strait peace was "Taiwan independence" separatist activities and U.S. support for these operations.
The rivalry between the United States and China has become a major world issue and will continue to do so for years to come. It has turned the defense sector, international relations, the economy, and technology their grounds of competition. Indonesia and other ASEAN and Asian countries must handle the situation wisely. Indonesia and Southeast Asian countries are not the first to face this reality. Working together and regular dialogues provide a strong basis to prevent competition from turning into an open war.