G20 Will Navigate Multidimensional Crisis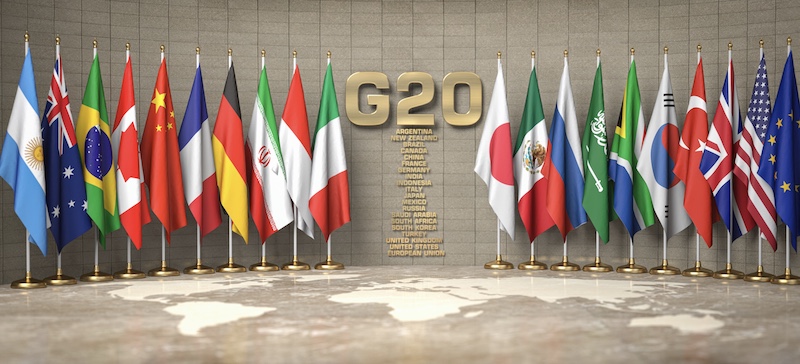 STRATEGIC ASSESSMENT. The world is experiencing a perfect storm, a multidimensional crisis, where various problems occur simultaneously with very high complexity. The first crisis is the unfinished COVID-19 pandemic. The second crisis is the geopolitical crisis — the war in Ukraine. The impact of the war in Ukraine has caused and exacerbated three further crises: food, energy, and finance, particularly in African countries and some other vulnerable countries.
The multidimensional crisis facing the world today is a test of the solidarity and effectiveness of the G20 as the premier forum for international economic cooperation, as agreed at the G20 Summit in Pittsburgh, U.S., in 2009. In conditions of high uncertainty, policies that are well planned, well calibrated, and well communicated are necessary. Indonesia's G20 also encourages this.
Indonesian Institute of Advanced International Studies (Inadis) Executive Director Ple Priatna said it was the time for Indonesia to lobby Western countries, including the U.S. President Joe Biden and European leaders, to resolve the Russian-Ukraine conflict. Priatna said the key to resolving this dilemma was the United States which has caused this prolonged war crisis. He claimed the United States and its allies has provided various weaponry to Ukraine in order for it to continue fighting, as well as applying sanctions, isolating, and destroying the Russian economy. He said the ambition must be countered with the "Roadmap to Peace."
Indonesia will encourage the strengthening of the global health architecture by boosting the World Health Organization's (WHO's) coordinating role and building collaboration networks at the 2nd Health Working Group (HWG), the Indonesian G20 Presidency's health spokesperson said.
"Strengthening the global health architecture by building the coordinating role of the WHO as a global health institution. Building collaborative networks is also very important," Siti Nadia Tarmizi stated at an online press conference, accessed from Jakarta on Friday.
There are considerable differences in the capacities of countries and regions when it comes to detecting as well as monitoring potential pathogens as part of genomic surveillance, she noted. For this reason, strengthening the global health architecture and building collaborative networks is necessary to prepare the necessary responses.
Indonesia is aiming to finalize the setup of a global fund for pandemic preparedness, the health ministry said on Saturday, ahead of a meeting of G20 Health Ministers later this month. Indonesia, which holds the presidency of the Group of 20 biggest economies this year, has been pushing for the establishment of a financial intermediary fund, or FIF, aimed at addressing financing gaps for pandemic preparedness, prevention and action.
G20 countries had provisionally agreed to set up the multibillion-dollar fund in April. Indonesia said the new mechanism will likely be housed at the World Bank and is aiming to finalize details before a meeting of G20 health ministers scheduled on June 20-21.
Some G20 member states have expressed their intent to cooperate in various sectors with Indonesia that holds the G20 Presidency in 2022, according to an official of the Coordinating Ministry of Economic Affairs. "So far, some (G20 member states) have shown a positive indication (to cooperate with Indonesia). I believe that this is because our G20 Presidency is an opportunity to attract investment from other countries," the ministry's deputy for Coordination of International Economic Cooperation, Edi Prio Pambudi, stated during a media briefing here on Monday. The ministry's deputy pointed out that one of the cooperation agendas brought up by Australian Prime Minister Anthony Albanese during his visit to Indonesia on Monday was in the energy transition sector.
The second Health Working Group (HWG) meeting brought global leaders to initiate a new global emergency fund for future pandemics and focused on facilitating greater sharing of genomic sequencing data, as well as how the Financing Intermediary Fund (FIF) functions under the World bank in preparing for future pandemics.
"Only through great earthquakes, lofty mountains rise. I believe this is true, not only for volcanoes, but also for our humanity. During every crisis, lie great opportunities," said in Lombok, West Nusa Tenggara, Indonesia.
The main issues addressed in the 6 to 8 June 2022 meeting were mobilization of financial resources for future pandemic responses. The Indonesian Health Minister, Budi Gunadi Sadikin, encouraged the G20 member states not let pandemic stride without learning valuable lessons.
In a recent interview with CNN Indonesia, EU Ambassador to Indonesia Vincent Piket said this year would be an extraordinary year for Indonesia because it becomes one of the countries whose policies are taken into account in the world as the G20 presidency.
Picket stated that the EU would fully support Indonesia to make the G20 presidency a success. He added that several important topics that are included in the G20 agenda, especially the three priority issues of health security, digital transformation, and energy transformation, are also priority agendas for the EU.
Indonesia has committed to chipping in US$50 million to a financial intermediary fund (FIF) recently established by the Group of 20 nations that aims to address financing gaps for pandemic preparedness.
"If Indonesia, as a lower-middle[-income country], could donate $50 million to the fund, we hope that developed and high-income countries can donate some $1 billion or $2 billion to the FIF," Health Minister Budi Gunadi Sadikin said on Monday before the G20's second health working group in Lombok, West Nusa Tenggara. According to the World Bank, a FIF is a financial arrangement that leverages public and private resources to enable the international community to provide a direct and coordinated response to global priorities.
The Food and Agriculture Organization of the United Nations (FAO) urged all countries to implement the One Health approach to prevent, detect, and control emerging zoonotic diseases. "It is vital to include One Health as a part of the global health architecture, which is one of Indonesia's G20 presidency priorities," Chief Veterinary Officer of FAO Keith Sumption concluded.
Indonesian Minister of Health Budi Gunadi Sadikin emphasized the pressing need for international collaboration to sustainably prevent and contain future pandemics through One Health as a long-term, viable, and sustainable approach. "There is no health without One Health," he stated in his opening remarks.
Indonesia strives to promote responsible fishing to prevent illicit fishing activities by cooperating with various G20 member countries as well as through the Regional Plan of Action to Combat Illegal, Unreported, and Unregulated Fishing (RPOA-IUU).
Maritime Affairs and Fisheries (KKP) Minister Sakti Wahyu Trenggono noted in a statement here on Friday that the effort reflects the KKP Ministry's active role in the international arena in encouraging the eradication of illegal fishing.
"In accordance with the implementation of Indonesia's G20 Presidency, the attempt is an example of (the realization of the) 2022 G20 theme, namely 'Recover Together, Recover Stronger,' as the international community should collaborate (Red/many sources).