2024 Presidential Elections: Issues and moments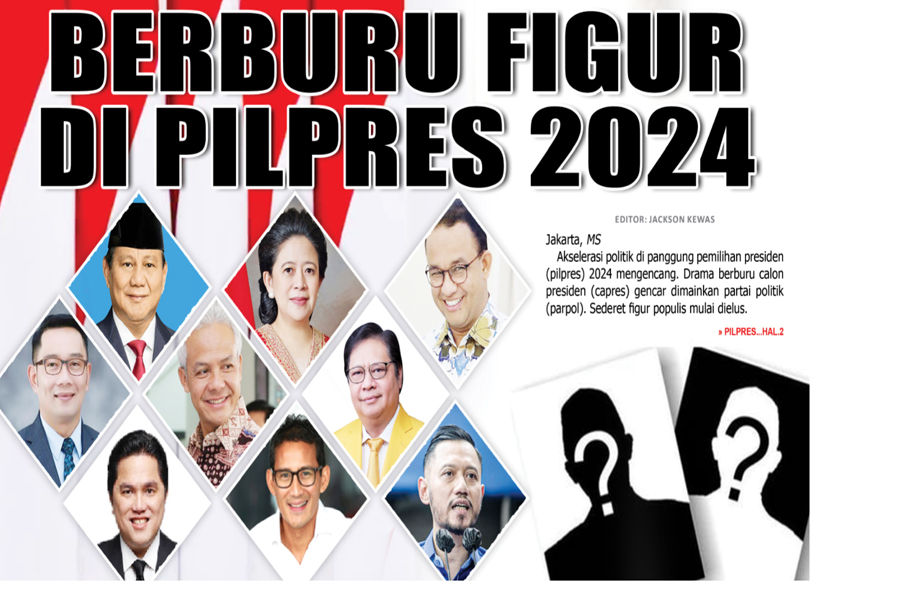 STRATEGIC ASSESSMENT-Four members of President Jokowi's cabinet will likely run in the 2024 election as either presidential candidates or running mates and it's safe to say that they are part of the country's small group of wealthiest individuals.
Defense Minister Pabowo Subianto, Tourism and Creative Economy Minister Sandiaga Uno, State-Owned Enterprise Minister Erick Thohir, and Coordinating Minister for the Economy Airlangga Hartarto have appeared in various polls as potential candidates for the election, in addition to front-runner Central Java Governor
Ganjar Pranowo and non-political party figure Anies Baswedan, who is also the Jakarta governor. Sandiaga is the richest of the four ministers based on his financial affairs made public by the Corruption Eradication Commission (KPK), with personal wealth of IDR10.6 trillion ($732 million). Erick, widely known as a successful entrepreneur who once bought Italian football team Inter Milan, has a net worth totaling IDR2.3 trillion of mostly equities. Prabowo reported a wealth of IDR2 trillion including IDR1.7 trillion in equities. Airlangga, the chairman of the Golkar Party which controls 14.8 percent of seats in the House of Representatives, has net worth IDR425.6 billion.
Golkar Party Chairman Airlangga Hartarto received a visit from Democratic Party Chairman Agus Harimurti Yudhoyono (AHY) and spouse Anissa Pohan at his official residence, South Jakarta, Saturday. When asked about coalitions in the 2024 presidential election, Hartarto said that there has always been a chance for his party to form a coalition with the Democratic Party. Airlangga also said that communication with AHY has been going well so far.
This will be the moment of truth for Anies because he was inaugurated as the education minister in 2014 and then Jakarta governor in 2017 by President Jokowi. Anies was dismissed from the Cabinet in July 2016, reportedly because he failed to meet the President's expectations. On the day President Anies inducts his Cabinet members, thousands of his supporters, some of them regarded as "radical and intolerant", hysterically chant "The President of indigenous Indonesians" outside the Presidential Palace compound.
The above scene will happen when the outgoing Jakarta governor realizes his ambition to be the country's eighth president, perhaps after defeating either Gerindra Party chairman Prabowo Subianto, or Ganjar Pranowo of the Indonesian Democratic Party of Struggle (PDI-P). Frankly, I feel pessimistic about Anies' chance of contesting the 2024 presidential race because he will practically be nobody after Oct. 16. Not only does he not have a political party, he also lacks sources of funds. He is a salaryman.
But a senior government official told me on Monday that it would not be difficult for Anies to get funding because he is the right man to lead Indonesia under true Islamic values. "Anies will get votes from the people who supported Prabowo in the previous elections. And there are many." It is not impossible for Anies to win the presidential election. But even if he loses it will not be difficult for him to get a Cabinet seat, and if he does, hopefully he will not be fired for the second time.
President Jokowi again reminded members of the Onward Indonesia cabinet to focus on their duties even though the 2024 election stage will begin in mid-2022. National Research and Innovation Agency (BRIN) political researcher Firman Noor on Tuesday expressed his concern over the excessive maneuvers carried out by ministers who intend to contest in the 2024 elections.
Some of them traveled to various places to meet a number of figures who were not directly related to their main tasks. He said such covert campaigns should not be carried out in the midst of uncertainties that require the attention of policymakers, such as such as the possibility of economic recession due to the war in Ukraine, the emergence of the new acute hepatitis cases, and the unfinished COVID-19 pandemic.
The Presidential Staff Office Deputy V Jaleswari Pramodawardhani on Tuesday said that the office reminded active State Ministers to set aside their personal agenda and focus on assisting President Jokowi instead, as a response to a number of State Ministers allegedly using state facilities to serve personal political interests, mainly, the 2024 presidential election.